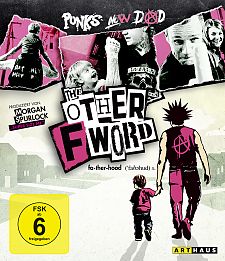 The other F Word / Blu-ray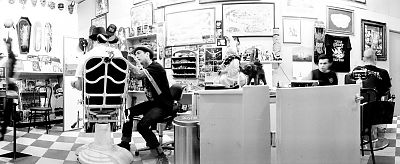 Windeln statt Widerstand: Was passiert, wenn Punk-Rocker zu Familienvätern werden? Der aufschlussreiche und witzige Dokumentarfilm von Andrea Blaugrund Nevins gibt intime Einblicke in das Privatleben bekannter Musiker wie Jim Lindberg von PENNYWISE, BLINK-182s Mark Hoppus, RED HOT CHILI PEPPERS' Flea, RISE AGAINSTs Tim McIlrath, Fat Mike von NOFX u.v.a. Er begleitet die Punkrock-Veteranen bei ihrem schwierigen Spagat zwischen Tourbus und Familienleben und zeigt, wie die einstigen Verfechter totaler Anti-Autorität damit klarkommen, wenn plötzlich Verantwortung auf dem Plan steht …
Mit der Musik von THE ADOLESCENTS, AGAINST ME!, BAD RELIGION, BLACK FLAG, THE BLACK PACIFIC, BLINK-182, BOUNCING SOULS, CIRCLE JERKS, DEAD KENNEDYS, EVERCLEAR, FEAR, GOOD GUYS IN BLACK, JOSH FREESE, NOFX, PENNYWISE, RANCID, RISE AGAINST, US BOMBS! Produziert von Morgan Spurlock ("Super Size Me")! Ab 18. April 2013 neu auf DVD und Blu-ray sowie als Video on Demand!
The other F Word / Blu-ray
Blu-ray
Originaltitel: The other F Word (Dokumentation, Musikfilm, USA 2011), ca. 99 Minuten
FSK 6
Blu-ray im Handel und als VoD seit 18.04.13
Extras
"Father of Mine" – Acoustic Performance von Art Alexakis; "Swing Life Away" – Acoustic Performance von Tim McIlrath; Fragen und Antworten nach der Premiere; Interviews mit Dr. Drew und Mark Mothersbaugh; Geschnittene Szenen; Trailer; Wendecover
Darsteller
Tony Adolescent
Art Alexakis
Rob Chaos
Chris DeWolfe

Stab
Regie: Andrea Blaugrund Nevins

Technische Angaben
Bild: 1,78:1 1080/24p Full HD
Sprachen/Ton: Englisch (Stereo DTS-HD Master Audio, 5.1 DTS-HD Master Audio)
Untertitel: Deutsch

Angaben zum Vertrieb
Bst.-Nr. 504217, EAN 4006680065939
© 2019 STUDIOCANAL GmbH. Alle Angaben ohne Gewähr.