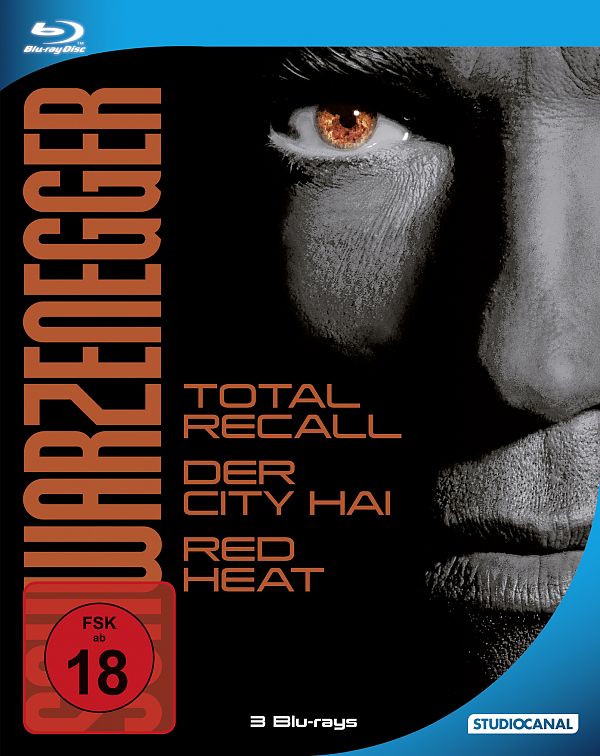 Arnold Schwarzenegger Steel Edition / Blu-ray
Action-Ikone Arnold Schwarzenegger lässt es dreimal richtig krachen! Das hochwertige SteelBook™ enthält gleich drei explosive Blu-rays. Neben "Der City Hai" und "Red Heat" ist darin auch Paul Verhoevens Sci-Fi-Klassiker "Total Recall" erstmals ungeschnitten im freien Handel erhältlich.
Arnold Schwarzenegger Steel Edition / Blu-ray
Blu-ray Steelbox 3er
Action, USA 1986-1990, ca. 324 Minuten
FSK Keine Jugendfreigabe
Blu-ray im Handel seit 16.02.12
In dieser Box:
Der City Hai / Blu-ray
Red Heat / Blu-ray
Total Recall / Uncut / Blu-ray

Extras
Arnold Schwarzenegger – Der Mann, der Hollywood auf den Arm nahm; Der politische Hintergrund von "Red Heat"; Raw Deal – ein echter Gangster-Film; Models & Skeletons: The Special Effects of "Total Recall", Trailer
Darsteller
Arnold Schwarzenegger (The Expendables, Terminator 2)
Sharon Stone (Basic Instinct, Streets of Blood)
Laurence Fishburne (Matrix 1-3, Contagion)
James Belushi (Der Ghostwriter, Immer wieder Jim)

Stab
Regie: Walter Hill, John Irvin, Paul Verhoeven

Technische Angaben
Bild: 2,35:1; 1,85:1 1080/24p Full HD
Sprachen/Ton: Diverse
Untertitel: Deutsch, Dänisch, Finnisch, Französisch, Holländisch, Italienisch, Norwegisch, Portugiesisch (nur Total Recall), Russisch, Schwedisch, Spanisch, Türkisch (außer Total Recall)

Angaben zum Vertrieb
Bst.-Nr. 503443, EAN 4006680058160
© 2020 STUDIOCANAL GmbH. Alle Angaben ohne Gewähr.