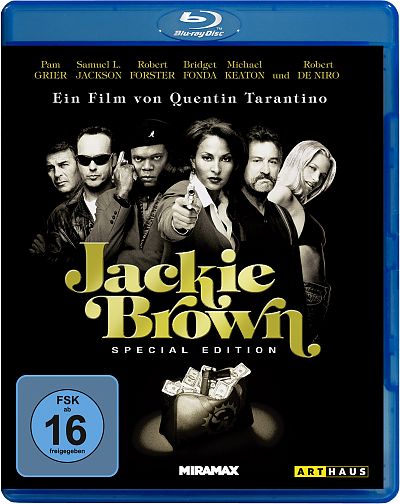 Jackie Brown / Special Edition / Blu-ray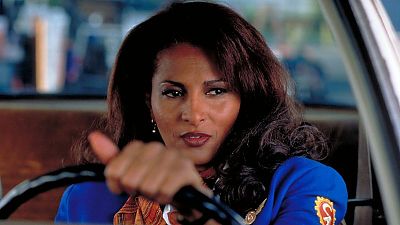 Stewardess Jackie Brown schmuggelt seit Jahren Schwarzgeld über die mexikanische Grenze. Als sie die Polizei am Flughafen erwischt, wird sie vor die Wahl gestellt: Entweder verrät sie ihren Auftraggeber oder sie wandert in den Knast. Dumm nur, dass ihr Boss sie kalt macht, wenn er von dem Deal erfährt.
Quentin Tarantinos gefeierte Hommage an die Blaxploitation-Ära ist mit Pam Grier, der Brigitte Bardot der Afroamerikaner, Robert De Niro, Samuel L. Jackson, Bridget Fonda, Robert Forster und Michael Keaton gewohnt herausragend besetzt. Als Grundlage diente der Roman "Rum Punch" von Krimi-Schriftsteller Elmore Leonard ("Schnappt Shorty", "Out of Sight").
Jackie Brown / Special Edition / Blu-ray
Blu-ray
Krimi, Thriller, Drama, USA 1997, ca. 154 Minuten
FSK 16
Blu-ray im Handel und als VoD seit 02.02.12
Extras
Dokumentation "Jackie Brown: Wie es ablief"; Ein Blick auf Jackie Brown – Interview mit Quentin Tarantino; Filmkritikergespräch "Breaking Down Jackie Brown"; Video "Chicks With Guns"; Fotogalerien; Geschnittene und alternative Szenen; "Jackie Brown" auf MTV; Marketing-Galerie; Kritik von Siskel & Ebert "At The Movies"; Wendecover
Darsteller
Pam Grier (Larry Crowne, Coffy – Die Raubkatze, Foxy Brown)
Samuel L. Jackson (Iron Man, Jumper, Pulp Fiction, Unbreakable)
Robert De Niro (Kurzer Prozess, Die durch die Hölle gehen, Taxi Driver)
Bridget Fonda (Little Buddha, 2 Mio. $ Trinkgeld, Der Pate III)
Michael Keaton (Spotlight, The Founder, Out of Sight)

Stab
Regie: Quentin Tarantino
Drehbuch: Quentin Tarantino
Kamera: Guillermo Navarro
Produktion: Lawrence Bender
Technische Angaben
Bild: 1,85:1 1080/24p Full HD
Sprachen/Ton: Deutsch, Englisch (5.1 DTS-HD Master Audio)
Untertitel: Deutsch, Englisch, Englisch für Hörgeschädigte

Angaben zum Vertrieb
Bst.-Nr. 503759, EAN 4006680061351
© 2020 STUDIOCANAL GmbH. Alle Angaben ohne Gewähr.