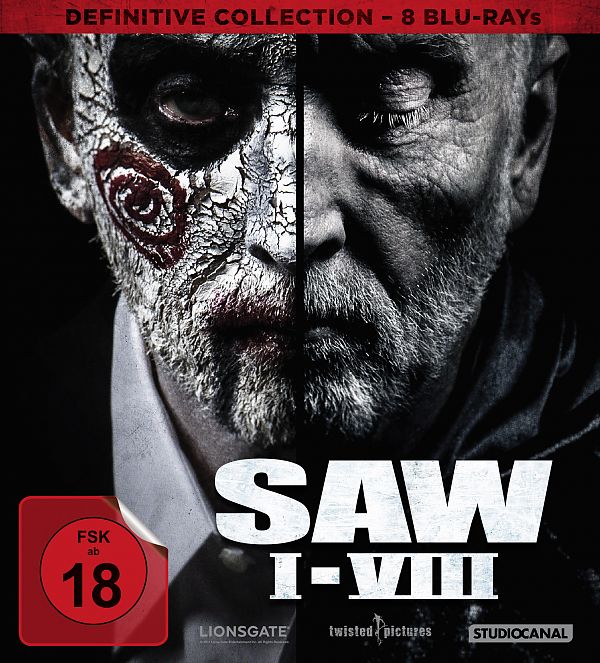 SAW I-VIII / Definitive Collection / Blu-ray
Über 200 Millionen Zuschauer haben weltweit das morbide Handeln John Kramers – besser bekannt als Jigsaw – verfolgt. Nicht umsonst ist SAW die erfolgreichste Horrorserie aller Zeiten. In dieser Sammlung finden sich alle Teile der grausamen Saga: die Geburt des kranken Killers Jigsaw, dessen Tod und wie sein Erbe erfolgreich fortgeführt wird.
SAW I-VIII / Definitive Collection / Blu-ray
Blu-ray Digipak 8er
Horror, Thriller, USA / CDN 2004-2017, ca. 737 Min. Minuten
FSK Keine Jugendfreigabe
Blu-ray im Handel seit 08.03.18
Extras
SAW: Audiokommentare, SAW – Der Kurzfilm, Behind the Scenes, Fear Factory Musikvideos, Bei den Dreharbeiten, Billie – Die Jigsaw-Puppe, Featurettes, alternative Szenen, TV-Spots, Trailer SAW II: Audiokommentare, Interviews, Making of, Jigsaws Fallen, Jigsaws Requisiten, Jigsaws Spiel, Storyboard vs. Film – Ein Vergleich, Kurzfilm "Zombie", Die Hintergrundgeschichte zu SAW, Das visuelle Konzept von SAW II, Die Scott- Tibbs-Dokumentation, Greg Hoffman: In Memoriam, Artwork-Skizzen, International Promo, Teaser, Trailer SAW III: Audiokommentare, Interviews & Fangespräche, Darrens Tagebuch – Gedanken eines Regisseurs, Zahlreiche Featurettes, Amanda: Entwicklung eines Killers, Musikvideo, Die Premiere von SAW III in München, Deleted Scenes, Make-Up Workshop, TV Spots, Trailer SAW IV: Darrens Tagebuch, Die Fallen und Requisiten von SAW IV, Deleted Scene, Musikvideo, Behind the Scenes, KINGZ – Der Kurzfilm, Filmografien, Interviews, TV-Spots, Trailer SAW V: Interviews, Behind the Scenes, Trailer SAW VI: Die Fallen von SAW VI, Musikvideos, Making SAW, Fanfragen an Tobin Bell, Trailer SAW VII: Geschnittene und erweiterte Szenen, 52 Arten zu sterben – Retrospektive der Fallen von SAW, Musikvideos, Interviews, Behind the Scenes, Superfan-Featurette, Gewinner des SAW-Video-Contests, Trailer JIGSAW: Audiokommentar mit den Produzenten, 80-minütiges Featurette: "Jigsaws Vermächtnis", Featurette: "The Choice is yours: Die Requisiten bei Jigsaw", Trailer
Darsteller
Tobin Bell (SAW–SAW VII, Boogeyman 1–3)
Shawnee Smith (SAW II–SAW VI, Kill Speed)
Costas Mandylor (SAW III–SAW VII)
Scott Patterson (SAW IV–SAW)

Stab
Regie: Darren Lynn Bousman, James Wan, David Hackl, Kevin Greutert, Michael Spierig, Peter Spierig

Technische Angaben
Sprachen/Ton: Deutsch, Englisch (Diverse)

Angaben zum Vertrieb
Bst.-Nr. 506408, EAN 4006680087856
© 2021 STUDIOCANAL GmbH. Alle Angaben ohne Gewähr.