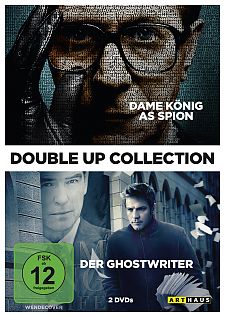 Dame König As Spion & Der Ghostwriter / Double Up Collection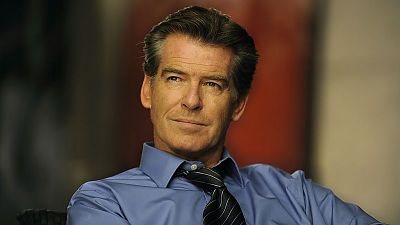 Zwei meisterhaft inszenierte Politthriller nach Bestseller-Vorlagen in einer Collection! In der Adaption von John le Carrés Klassiker Dame König As Spion verkörpert Gary Oldman den einsamen und brillanten Agenten George Smiley, der in den eigenen Reihen ermitteln muss. Regielegende Roman Polanski widmete sich mit Der Ghostwriter der pikanten Story eines Ghostwriters, der die Memoiren des ehemaligen britischen Premierministers verfassen soll, und schon bald selbst in Ermittlungen verstrickt wird.
Dame König As Spion & Der Ghostwriter / Double Up Collection
DVD Doppel
Originaltitel: Tinker Tailor Soldier Spy & The Ghost Writer (Thriller, Deutschland / Frankreich / UK 2009-2011), ca. 245 Minuten
FSK 12
DVD im Handel seit 05.09.13
In dieser Box:
Dame König As Spion
Der Ghostwriter

Extras
Featurettes "Der Ghostwriter: Die Besetzung", "Der Ghostwriter: Fiktion oder Realität?", Interviews mit Ewan McGregor, Olivia Williams, Pierce Brosnan, Robert Harris und Roman Polanski; Audiokommentar von Regisseur Tomas Alfredson und Gary Oldman; Featurettes; Geschnittene Szenen; Fotogalerie; Trailer; Wendecover
Darsteller
Ewan McGregor (Männer, die auf Ziegen starren; Star Wars: Episode III; Brassed off)
Pierce Brosnan (James Bond, Noble House)
Gary Oldman (Das fünfte Element, Harry Potter I-VII, The Dark Knight, Léon – Der Profi)
Colin Firth (The King's Speech – Die Rede des Königs, A Single Man, Mamma Mia!)

Stab
Regie: Roman Polanski, Tomas Alfredson
Drehbuch: Bridget O'Connor, Peter Straughan, Roman Polań, ski, Robert Harris
Kamera: Hoyte van Hoytema, Paweł, Edelman
Produktion: Robyn Slovo, Eric Fellner, Roman Polań, ski, Alain Sarde, u.a.
Technische Angaben
Bild: 2,35:1 (anamorph)
Sprachen/Ton: Deutsch (5.1 Dolby Digital, Stereo Dolby Digital), Englisch (5.1 Dolby Digital)
Untertitel: Deutsch, Englisch für Hörgeschädigte

Angaben zum Vertrieb
Bst.-Nr. 504444, EAN 4006680068213
© 2020 STUDIOCANAL GmbH. Alle Angaben ohne Gewähr.