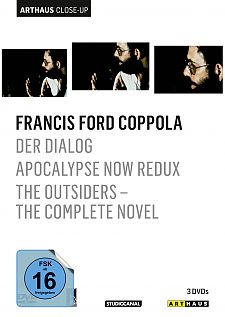 Francis Ford Coppola / Arthaus-Close Up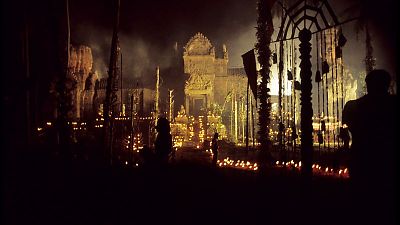 Drei der größten Meisterwerke von Regielegende Francis Ford Coppola in einer Edition als Teil der Arthaus Close-Up-Reihe! Enthalten sind das Drama The Outsiders, der Thriller Der Dialog und der Antikriegsfilm Apocalypse Now Redux. Zum absoluten Staraufgebot der Klassiker gehören u.a. Gene Hackman, Martin Sheen, Dennis Hopper, Harrison Ford, Marlon Brando, Robert Duvall, Tom Cruise, Patrick Swayze, Emilio Estevez, Matt Dillon.
Francis Ford Coppola / Arthaus-Close Up
DVD Schuber 3er
Kriegsfilm, Thriller, Drama, USA 1973-1983, ca. 413 Minuten
FSK 16
DVD im Handel seit 18.10.12
In dieser Box:
Apocalypse Now Redux / Digital Remastered
Der Dialog
Outsiders, The / Rolling Stone Videothek

Extras
4 Audiokommentare; 2 Einführungen von Francis Ford Coppola; Damals und heute; Interviews; Keine Zigarre; Nahaufnahme von "Der Dialog"; Screen Tests von Cindy Williams und Harrison Ford; Script Diktate; Trailer; Wendecover
Darsteller
Marlon Brando (Der Pate, Meuterei auf der Bounty, Die Männer)
Robert Duvall (Crazy Heart, Comeback der Liebe, Apostel!)
Harrison Ford (Indiana Jones, Auf der Flucht, Blade Runner)
Gene Hackman (Das Urteil, Erbarmungslos, Der Staatsfeind Nr. 1)
Martin Sheen (Wall Street, Selma, Departed - Unter Feinden)
Matt Dillon (Verrückt nach Mary, Rumble Fish, The House that Jack built)
Tom Cruise (Magnolia, Vanilla Sky, Eyes Wide Shut)

Stab
Regie: Francis Ford Coppola
Drehbuch: Francis Ford Coppola, John Milius, Kathleen Rowell
Kamera: Bill Butler, Vittorio Storaro, Stephen H. Burum
Produktion: Francis Ford Coppola, John Ashley, Gray Frederickson, u.a.
Technische Angaben
Bild: 1,85:1, 2,35:1, 2,40:1 (anamorph)
Sprachen/Ton: Deutsch, Englisch (Mono Dolby Digital, Stereo Dolby Digital, 5.1 Dolby Digital)
Untertitel: Deutsch, Englisch, Diverse

Angaben zum Vertrieb
Bst.-Nr. 503799, EAN 4006680061757
© 2020 STUDIOCANAL GmbH. Alle Angaben ohne Gewähr.