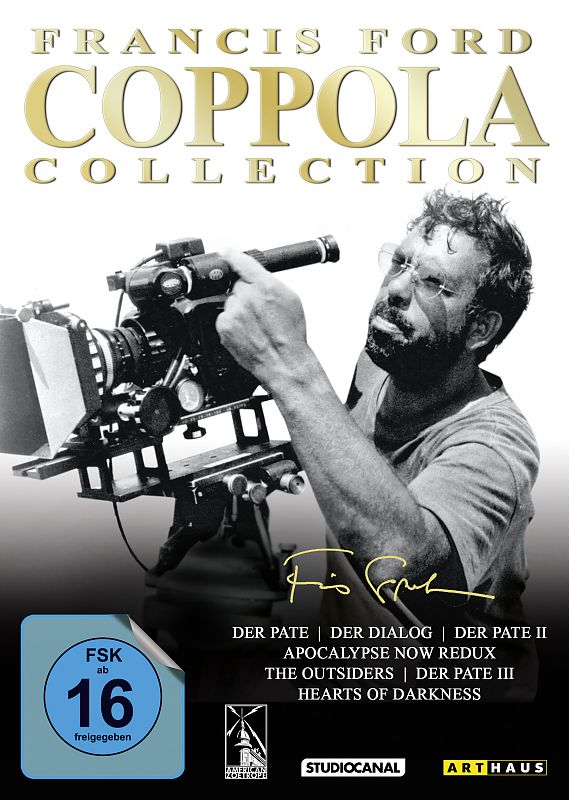 Francis Ford Coppola Collection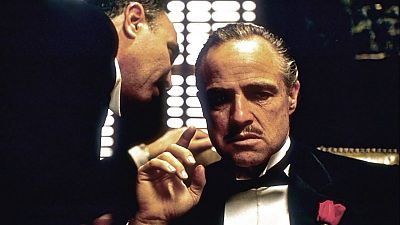 Regielegende Francis Ford Coppola zählt zu den bedeutendsten Filmschaffenden unserer Zeit. In einer Premiere widmet das ARTHAUS-Label für den besonderen Film dem wegweisenden Filmemacher und fünffachen Oscar®-Gewinner eine einmalige Edition mit den sechs wichtigsten Arbeiten seiner Regielaufbahn. Die FRANCIS FORD COPPOLA COLLECTION vereint neben der legendären Der Pate-Trilogie das visionäre Kriegsdrama Apocalypse Now, den Spionage-Thriller Der Dialog mit Gene Hackman in einer seiner besten Rollen sowie den Kultfilm der 1980er Jahre, The Outsiders in einer Box. Als besonderen Bonus enthält das hochkarätige Boxset im Schuber die preisgekrönte Dokumentation Reise ins Herz der Finsternis – Hearts of Darkness über die strapaziösen Dreharbeiten zu Coppolas Meisterwerk Apocalypse Now.
Francis Ford Coppola Collection
DVD Schuber 7er
Kriegsfilm, Thriller, Drama, USA 1973-2011, ca. 1169 Minuten
FSK 16
DVD im Handel seit 18.12.14
In dieser Box:
Apocalypse Now Redux / Digital Remastered
Der Dialog
Reise ins Herz der Finsternis - Hearts of Darkness
Outsiders, The / Rolling Stone Videothek

Extras
Dokumentation "Hearts of Darkness"
Darsteller
Marlon Brando (Superman, Meuterei auf der Bounty, Die Männer)
Al Pacino (Scarface, Heat, Donnie Brasco)
Robert de Niro (Taxi Driver, Casino, Kap der Angst)
Robert Duvall (Crazy Heart, Comeback der Liebe, Apostel!)
Harrison Ford (Indiana Jones, Auf der Flucht, Blade Runner)
Gene Hackman (Das Urteil, Erbarmungslos, Der Staatsfeind Nr. 1)
Martin Sheen (Wall Street, Selma, Departed - Unter Feinden)
Matt Dillon (Verrückt nach Mary, Rumble Fish, The House that Jack built)
Tom Cruise (Magnolia, Vanilla Sky, Eyes Wide Shut)

Stab
Regie: Francis Ford Coppola
Drehbuch: Mario Puzo, Francis Ford Coppola, John Milius, u.a.
Kamera: Gordon Willis, Vittorio Storaro, Stephen H. Burum, u.a.
Produktion: Francis Ford Coppola, Gray Frederickson, Albert S. Ruddy, u.a.
Technische Angaben
Bild: Diverse
Sprachen/Ton: Deutsch, Englisch
Untertitel: Deutsch

Angaben zum Vertrieb
Bst.-Nr. 504354, EAN 4006680067308
© 2020 STUDIOCANAL GmbH. Alle Angaben ohne Gewähr.